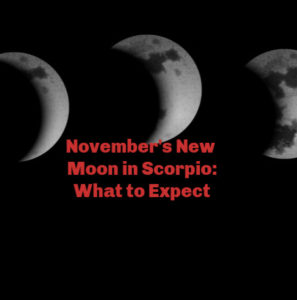 November 7 marks the new moon in Scorpio. Those who pay attention to the phases of the moon know that new moons mark the beginning of a new cycle. When you pay close attention, you'll likely see a theme to your life that begins around the new moon and continues until the next new moon.
Read: New moon magick: Jumpstart that new job or relationship
Read: New moon spells to usher in new love
Generally speaking, this is also a great time for manifestation and beginning new things. If you have a new idea or project you want to get off the ground, the new moon is the right time to do it.
Want to learn how to recognize — and trust — your own messages? Sign up here.
Yet all new moons aren't the same. Each new moon has its own distinct personality, marked by the astrological sign that it falls under. November's new moon in Scorpio is no exception. Here's a roundup of how this month's new moon may affect you.
Specifics about November's new moon in Scorpio
Astrologer Heather Eland of Beyond Astrology told Express that for those under the sign of Scorpio, this new moon will spark a major reset of their lives. Rather than having an impact on one area, it could usher in a transformation in the way you do things in different aspects of life.
Refinery 29 suggests that this month's new moon could send us into the depths of our emotions. After all, Scorpio is an intense and emotional sign. But the good news is that once we go deep on an issue that has been plaguing us, we're likely to come away with an insight or two that can have broad implications in our lives.
Astrologist Chani Nicholas says that this new moon is a good time to expand and develop what we've been growing throughout the past year.
Tanishka, The Moon Woman, suggests that the new moon may call on us to choose between our ego and our soul. We all experience moments of conflict between what we think we should do and what our hearts want us to do. This new moon may highlight areas of our lives where that conflict is particularly evident.
As the new moon energy takes over, it's a good idea to give yourself time to be alone with your feelings and see how the energy affects you. If emotions do come up, allow yourself to feel them rather than think your way through them. Also write significant events that happen between this new moon and the next. You may be surprised by what this cycle ushers in.
PsychicLessons.com may receive compensation if users buy products or services mentioned or advertised on this site or click on some of the links on this site.