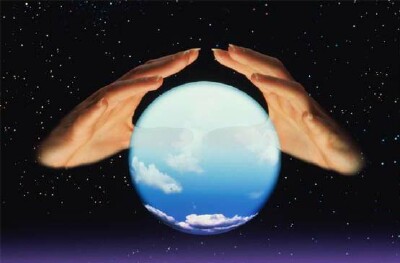 Sometimes life gets a little crazy and we can all use a little guidance. I know you've been there because I've been there too.
We may have run upon a roadblock at work and be wonderning if now's the time to dust off that resume. Maybe our relationship has hit a rough patch or we suspect that our partner may be cheating. We may be experiencing money problems and wondering what action we can take that will make the greatest difference. With any of these crises we may find ourselves wondering what's going on? What's the Universe trying to tell us? When storm clouds brew around us, a psychic reading can sometimes give us the confidence and insight to move ahead.
But finding the right psychic isn't always that easy. How do you know who to trust and what type of reader will be best for you? This guide will give you some suggestions to help you conduct your search.
Online reading or in-person session?
One of the first questions you have to ask yourself: should you do an online reading or meet with a psychic in person? For some people the answer will be obvious. If you don't know of any psychics nearby or maybe you live in a rural area, you may not have a choice. An online psychic may be the only practical option. But if you live near any metropolitan area — and many rural ones too — chances are you'll find some psychics nearby.
Want to learn how to recognize — and trust — your own messages? Sign up here.
One of the benefits of doing a psychic reading in-person is that you can check out the psychic's body language and you may find it easier to pick up on his or her energy so you can gauge whether you're vibing with this person or not.
(Never get a psychic reading from someone you don't trust or someone who you feel uncomfortable around. Trust your own intuition above all else). It also may be easier to build a rapport with someone in-person. I went to one of my favorite psychic readers for years partly because I was comfortable around her energy and felt like we were able to bond.
However, some may prefer online readings for the following reasons:
You don't have to worry about traveling to get there.
If you have sensitive questions, it may be easier for you to ask them to someone who isn't sitting physically in front of you.
You may not have to wait as long for an appointment with your psychic of choice.
If you're open to any psychic reader, you can get a reading at any time.
Once you determine whether you want to meet with someone in-person or online, you can take the next step and select the reader for you.
Try to get a recommendation
I'm always more likely to try something out if I hear a recommendation from someone I know and trust. Is there anyone else in your life who likes to get psychic readings? If so, ask them if they have a reader that they can recommend.
If you don't know anyone who can make a recommendation, you may try reaching out to a local metaphysical shop to ask if they know of someone. Yoga studios, health food stores and holistic expos are other places where you may run into people who sometimes get psychic readings and can make a recommendation to you.
Of course there's an important caveat to keep in mind when you're getting that recommendation. Consider the recomendation just a starting point. Just because a psychic reading resonates with one person, it might not resonate with another. I've had instances when I've loved a particular psychic reader and a friend hated the experience with that person. The opposite has happened as well. I've heard friends singing the praises of a psychic only to get a reading and wonder what all of the fuss is about.
So when getting recommendations, tune into your own intuition. Does the idea of getting a psychic reading from this person excite you? Do you feel uneasy about the suggestion? Pay attention to any vibes that you get.
Test before you buy
One of the biggest benefits of online readings is that you can sometimes test out a reader before you spend money. Even spending a couple of minutes with a person can give you some insight into whether you want to spend money to hear more of what this person has to say. If you can take advantage of this privilege, do it.
Keen is an online psychic service that lets you get the first three minutes of a reading free. In that period of time, you can ask a brief question and see what the psychic has to say. One way to test the psychic is to ask a question that you already have some clarity about. By doing that, you can see if you resonate with the psychic's response. If you do, then you may feel more comfortable spending money to learn more of what the psychic can tell you.
Keen also gives you brief descriptions of the various psychics. Use those descriptions also to tune into your intuition to see if anyone grabs your attention. Different psychics on the service chaarge different prices so you can find someone who fits your budget. You can explore Keen here.
Another psychic service that lets you test before you buy is Oranum. One of the things I like best about Oranum is that it lets you chat with a psychic for free. While the psychic won't go all in-depth during the chat, he or she will likely provide some insight, which can give you an idea of whether you want to go further in a reading with this person. To try one of Oranum's psychics through a free chat, simply register with Oranum for free. If you decide that you want to go on and do a psychic reading, you can buy credits later that can be used to pay for a psychic reading with the reader of your choice. You can check out Oranum here.
While Psychic Source doesn't have an ongoing way to try a psychic out for free, what I do like about the service is that I've found that they tend to have more psychics who offer readings at a lower cost. It's easy to find psychics on Psychic Source who only charge $1 per minute. Psychic Source also has this cool Find A Psychic tool that lets you enter certain criteria that's important to you and it suggests psychics that might appeal to you. You let them know what you want information on. For example do you want to know more about your relationship? Are you looking for a pet communicator? Do you want a medium who can communicate with the dead? Psychic Source will match you with a psychic and even let you determine whether you'd prefer to do the reading via phone, chat or video. You can explore Psychic Source here.
Red flags to watch for
When determining what psychic you want to go to, it's also a good idea to watch out for a few red flags. There are scammers out there, unfortunately, just as there are scammers in pretty much every industry. It's a shame that we can't just go through life expecting everyone to act in our best interests, but the truth is we can't. However, our own intuition is a tool that we can use to try to root out psychic scammers so we can enjoy the services of legitimate psychics. If you don't feel comfortable or you feel hesitant moving forward follow your instincts.
When you start talking to a psychic it's good to be open to what they have to tell you, but be wary if they fish around for too much information from you. If you believe that the person is asking you too many questions or they're not giving you tangible information don't be afraid to end the session early. If you're doing a phone or Internet reading, end the call or chat session.
If you're going to get a reading from a psychic online it may be a good idea to go through a service such as Keen, Oranum or Psychic Source. These companies have processes in place to try to root out scammers. You also have someone to complain to if the psychic reading doesn't go the way you would like for it to go. If you'd rather work with an online psychic who works independently, see if they have testimonies on their web site that they can point you to.
Once you find the right psychic for you, don't be afraid to sing their praises. Let others know about their work. Not only does it help others to potentially get the answers they need, but it could help the psychic by exposing people to his or her talents. Many of us are quick to complain when things don't go right or when we don't get the service that we want. When we find what we are looking for, let's celebrate it.
Related story: Three love-related questions to ask at your next psychic reading
Related story: Questions to ask before a tarot reading
PsychicLessons.com may receive compensation if users buy products or services mentioned or advertised on this site or click on some of the links on this site.