Psychic Predictions: Trump Tarot Readers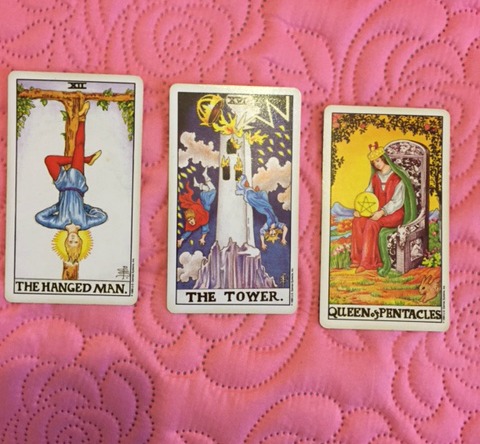 Today's political climate has made a fortune for a lot of businesses ranging from cable news networks to publishers hawking tell-all political books. Another group that's benefiting — a new wave of political tarot card readers who are building a following by making predictions about what will happen next during the presidency of Donald Trump.
I have to admit watching these tarot readers has become one of my guilty pleasures. Everyone who knows me knows that my television is always tuned into MSNBC or CNN (yes, you probably now know my political affiliation), and I've had my share of days when I've been outraged or glued to the TV. But these readers have their now unique spin on the events of the day and I love to hear what they see coming down the pike. And I really love it when they see what I want them to see.

They also tend to do new readings when there are major political developments such as the release of the Mueller report or a news organization breaks a major story.

There's another benefit to watching some of my favorite readers. I've picked up some tarot tips and I've learned a few new spreads that I can use myself. If you're interested in tarot and politics, find some time to check out some of these readers to see whether their predictions turn out to be true.
It's easy to find them by searching youtube, but I will share a few of my favorites in case you want to check them out.
Seanna Rose is actually one of the first Trump tarot card readers I came across. She reminds me of one of my former co-workers from years ago who I adored, so naturallyI was drawn to her. In her description, Seanna says she's working on her Tarot skills, while also studying mediumship, channeling and spirit work. She isn't a fan of the Trump administration and she doesn't believe his presidency will go down in history as a success. Her personality is bubbly and friendly and sometimes her cat will make a surprise appearance. Seanna does a good job of explaining what the cards need and her interpretations so if you're learning to use Tarot cards, her Youtube channel might give you some insight that you can use. She now has a video feature titled The Impeachment Diaries.
Want to learn how to recognize -- and trust -- your own messages? Sign up here.
When it comes to Tarot technique, Tarot With Whimsy is my girl. I love the way she shuffles and cuts cards, and I've actually implemented some of her card-handling tactics in my own Tarot card reading. Not only does she show you her Tarot spreads and interpret them, but she also shares the other psychic insights she gets in other ways such as through meditations that she does. She comes off as grounded and practical and she explains the cards as she reads them so you can improve your own skills.
The third Tarot card reader who rounds out my list is Tarot's Apprentice. This guy has an air of mystery about him — he never shows his face. You simply see his hands as he works his magic with the cards. I also love the fact that he uses different decks, some of which are absolutely beautiful and have multicultural images. His readings vary in length — some are as short as six minutes making it easy to check in if you're trying to get an idea about something that happened on the news that day.
Watching a variety of readers can show you that there isn't just one way to read Tarot cards. For example, some wait for cards to jump out of their hands while others pick all of the cards directly from the deck. I also learned how to use clarifiers in different ways — meaning you pick additional cards to shed more light on a card that was already laid out in the spread. By opening your mind, you'll likely feel certain practices that resonate with you.
PsychicLessons.com may receive compensation if users buy products or services mentioned or advertised on this site or click on some of the links on this site.