Ronan Farrow: Inner Voice Paved Way for #MeToo
Ronan Farrow is showing himself to be the Journalist That Could. It was Farrow who first broke the story that rocked the cultural landscape with his New Yorker article alleging that Harvey Weinstein is a sexual predator.  And that story sparked other women to come out and share their stories leading to the #MeToo movement and the fall of countless powerful men. While you probably know all that, interestingly, Farrow talks about how his inner voice kept him on the trail of that story despite setbacks, self-doubt and even threats.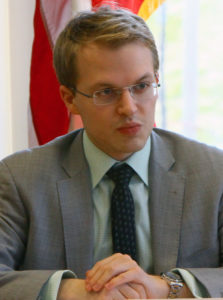 Farrow gave the commencement address at Loyola Marymount University and talked about how that inner voice kept him going.
He said: "You can have a feeling. You can have an instinct. You can have a gut reaction: a little inner voice that tells you what to do."
The key is to actually listen to it despite the fact that society often values logic and taking risks only when you can guarantee success. The truth of the matter is that inner voice is typically leading us to something bigger. Intuition connects us to the world around us. It often prompts us to take actions that are bound to have an effect not only on us, but on those around us.
Read: 4 Types of Psychic Mediums. Which One Are You?
Want to learn how to recognize -- and trust -- your own messages? Sign up here.
In the case of Ronan Farrow, his inner voice kept him pursuing a story that people warned him to give up on. Some said doing this story would end his career. When he was threatened, he might have even wondered if pursuing this story could end his life. While the external voices were prompting him to give up, the internal voice set him on the right path.
So how can you access that inner voice?
Practice stillness
Learn how to quiet your mind; doing so will help you to discern that inner voice from all of the other chatter — internal and external — that is calling for your attention.
Use your support system
We all need support from people who we truly know have our back. If there's someone close to you who doesn't have your back, get rid of them. Ronan Farrow describes a real dark moment when he called his partner and nearly had a breakdown in a cab. His partner talked him down and helped him quell the anxiety so he would once again find that inner voice.
Trust the voice that's steady.
When you start paying attention to all those thoughts, you'll find that most of them are erratic and emotional. The inner voice will not be emotional. It was be steady and it will constantly be guiding you in the right direction. It will be leading you on despite the circumstances. That's what you should trust.
PsychicLessons.com may receive compensation if users buy products or services mentioned or advertised on this site or click on some of the links on this site.