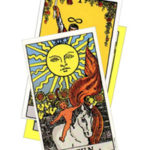 While we all have inherent psychic ability, we sometimes need the help of a professional psychic to provide answers to the toughest questions. We may wonder if this is the right love for us, or if our partner is cheating. Or we may ask if we are in the right job or even the right career. Sometimes we need help determining how to make enough money to make ends meet, or whether we're living according to our purpose.
A psychic can help you find answers to all of these questions, but if you're looking for a psychic, consider the following advice.
Watch out for psychic scams.
Just like there are lawyers, doctors and salesmen that will take your money and run with it, there are people who prey on others' vulnerabilities and desire for psychic knowledge. Potential scammers will likely try to scare you into paying more money for additional services. For example, he or she may tell you that there is a curse on you and you should pay them to have it removed. Don't do it. Psychic scammers may also ask you alot of questions about yourself and provide you with little information. A reputable psychic will be giving you the information that you need, not the other way around.
Get recommendations if possible.
It's always good advice to get someone's recommendation about a psychic. Has someone received information from this person or has someone used this particular psychic service? If someone else is happy with their experience with a psychic that means a lot more than any advertising that the psychic could pay for. Places where you can get recommendations about a good psychic include local metaphysical shops, spiritualist churches and holistic and healing centers.
Look for psychics who have been screened.
One of the benefits of using a psychic that's affiliated with a company is that often such psychics are screened. That means the psychic was tested before he or she was allowed to do psychic readings with that company. That cuts down on the chance that the psychic is a scammer and can give you more piece of mind when going into your psychic reading.
Don't overlook online psychic services.
There are a number of benefits to using online psychic services rather than visiting with a psychic face to face. You don't have to wait to get an appointment, you can have your reading done from the comfort of your own home, and you can have pressing questions answered immediately. There is no shortage of online psychic services including California Psychics, Keen, and AskNow — all of which I have used. I have never had a bad experience with an online psychic reading. (I have had bad experiences with face to face readers. I once was told to come back with $100 to get a hex taken off of me.) Though my experiences with all of those online psychic services have been positive, my best experiences were with the online service Psychic Source and AskNow. Each time I've had a reading using Psychic Source, the information was more detailed and very accurate. I was told not only what would happen, but when it would happen, and the information always ended up being true. I also like the fact that Psychic Source has a very strict process of screening psychics. Anyone who wants to offer readings through the service has to give a number of test readings. If those readings don't turn out to be accurate, the psychic reader can't offer their services through Psychic Source.  If you want to try a Psychic Source reading, click here to go to their Web site.
My experience with AskNow was also pleasant. In fact, during one AskNow reading, I was given a lot of past life information that helped me to understand why a certain pattern kept repeating in my life. If you want to try AskNow, you can click here to go to their Web site, or call 877-649-2391.
No matter what psychic reader you ultimately work with, psychics are here to help you on your spiritual journey. Choose carefully. Wishing you love and light.