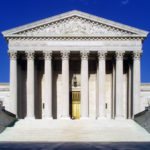 It's not unusual for people to turn to psychics once someone has passed away to see if they had any insight into the matter. One psychic, LaMont Hamilton, may have actually seen Supreme Court Justice Antonin Scalia's death coming. In January 2015, he made the following prediction: At least two more males will be added to the Supreme Court by 2020 after one female and one male is lost.
A number of psychics have chimed in as of late to give their predictions about how the replacement process will go and who will ultimately take Scalia's place on the Supreme Court. Jeanne Mayell, Tony Morris and Angela Gehl are all psychic intuitives who believe that President Obama will nominate a woman to replace Scalia.
Fresh off of his prediction that a male justice would die, Hamilton is now suggesting that Scalia may have been murdered. According to Vocativ.com, Hamilton said: "It will not be well received that Scalia died of natural causes and it's going to be flagged as a murder since there's too many things that are being hidden from the public."
That much is true, as there have been many news stories circulating in which many people — including detectives — voice questions about the way Scalia's death was handled and wonder why no autopsy was completed.
PsychicLessons.com may receive compensation if users buy products or services mentioned or advertised on this site or click on some of the links on this site.