These days, I have been spending a lot of time learning about different healing rituals to support my healing journey from cancer. One that I have found particularly fascinating is the Wu Lou, a symbol of health and vitality that is used in Feng Shui.
What is a Wu Lou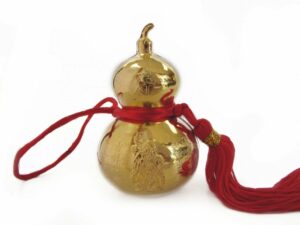 The Wu Lou (pronounced hu lu), which means "giver of life," is believed to promote healing from illness and to prevent premature death.  In other words, this powerful cure can be used if you're already dealing with an illness or you can use it proactively in a bid to protect your health. 
In my case, I'm using it for the former. I have already turned to Feng Shui to support me in my healing journey by using it to attract good and competent doctors. This seemed like a good way to explore Feng Shui even further. (This site does not purport to give medical advice. I'm simply sharing metaphysical techniques that I am using in addition to the treatment recommended by my doctors.)
The Wu Lou has a distinct shape and the top half represents heaven and the bottom half represents earth. When heaven and earth are in alignment, as symbolized by the Wu Lou, anything good is possible.
Promoting healing while you sleep
From the research I did, I learned that if you're sick, you can place the Wu Lou on the nightstand beside your bed. That way, it can attract healing chi energies to you while you are sleeping. I purchased a brass Wu Lou and placed it on my nightstand. Whenever I look at it, I am reminded that I am healing and affirm that thought in my mind.
Want to learn how to recognize — and trust — your own messages? Sign up here.
If you are using it as a preventive measure, you might place it in the health sector of your house or carry it with you in a purse. I'm thinking about getting another one that I can carry with me during this time. There are even some that you can use as keychains. If you plan to place it in the health sector of your house, consider getting a wooden Wu Lou since the health area is in the east sector of your home, which is ruled by wood.
The home isn't the only place where this symbol can be helpful. If you have a stressful workplace, consider placing one in your office to protect yourself from negative energy while you work. (You might even get one that is made with obsidian to protect you from the evil intentions of others.)
A Wu Lou can also make a good gift for someone you care about. Perhaps you give it to someone as a housewarming gift, or simply let a loved one know you wish them good health by gifting it to them for a birthday or Christmas.
PsychicLessons.com may receive compensation if users buy products or services mentioned or advertised on this site or click on some of the links on this site.