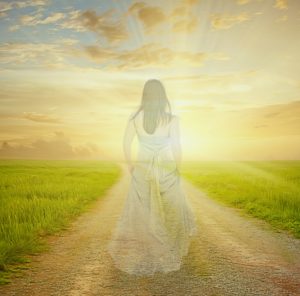 With the Samhain holiday (also known as Halloween) upon us, this is the time of year when the veil between the living and the dead is the thinnest. Whether you're a psychic medium looking to strengthen your abilities or a novice who simply wants to get a message from a deceased loved one, here are some ways that may help you to forge a connection with the dead.
Stop by a cemetery
While some people are afraid of cemeteries, those of us who feel drawn to metaphysics and spirituality are often comforted by them. Visiting a cemetery on Samhain or any other day when you want to connect with someone on the other side can yield great dividends. While you're there, pay attention to all of your senses, and note when you sense that you are not alone.
Go through old family photo albums
If you're looking for a message from one of your ancestors, this may be the perfect time to get it. Look at photos of deceased loved ones with the intention of connecting. Then, note all of the thoughts and ideas that come to mind about family members who have crossed over to the other side.
A psychic medium may be able to get messages from your loved ones at any time, but on Samhain when the veil is particulalry thin, the messages may be clearer and more plentiful. If you have a question that has been plaguing you, this may be a way to get the answer you have been looking for.
Ask for a visit from a loved one…
Who has passed away before you drift off to sleep. You'd be surprised at the power of suggestion. Make sure you have a recorder or notebook next to your bed to record what you remember once you wake up.
Want to learn how to recognize — and trust — your own messages? Sign up here.
Sleep with amethyst under your pillow
One of the most spiritual stones you can get, amethyst is so powerful that it may inspire very vivid dreams. Some of those dreams could provide messages from spirit or from loved ones who have crossed over to the other side.
Pull out a ouija board
Another tool that can be misunderstood, ouija boards can help you to connect with loved ones on the other side. Simply connect with like-minded folks and ask questions of spirits who may be around you. However, make sure you use it responsibly and with respect for the spirit world. You wouldn't want to conjure up a supernatural relationship that you cannot handle.
Go on a ghost tour
If you live in a city that offers ghost tours, this is a fantastic time of year to try one out. As you visit haunted grounds, pay attention to how you feel. Do you notice changing emotions or physical changes in your body? What about changes in temperature. Remember that with a thin veil between the two worlds, you're likley to be more impacted by spirits that may not have crossed to the other side but who have chosen to spend more time lingering on earth as ghosts.
PsychicLessons.com may receive compensation if users buy products or services mentioned or advertised on this site or click on some of the links on this site.