My Winter Solstice Meditation Challenge
Did you ever hear the song Unpretty by TLC? It's about how sometimes you can feel beautiful and other times you can feel unpretty. The same goes with psychic ability. Sometimes you can feel like your intuition and clarity are totally on point, and then other times you can feel confused and unclear and wonder if you made all of those psychic hits up in the first place. Whenever I feel like my intuition is sluggish, I like to step up my meditation, by embarking on a meditation challenge.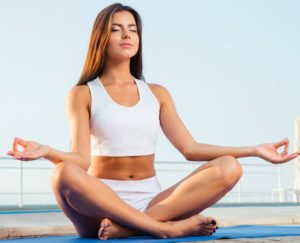 I try to meditate a few times a week, even if it's only for five minutes. However, when I meditate more often and devote more time to it, my focus becomes clear, my energy rises and my intuition gets stronger. I also like to give myself meditation challenges at certain times of the year. The winter time is one of them.
Winter Solstice kicks off the winter, and it's a time when it's a good idea to go within. Darkness overpowers the light during this time and metaphysically, it is a time to call upon our faith and hope that we will see another period of light. (We will, of course, when the seasons change. However, it is symbolic of the fact that there is a time for everything, and out of every period of darkness comes the light.)
If you're looking for a way to strengthen your psychic muscles, try the meditation challenge. Don't make it so difficult that you will be destined to fail. Instead, simply add a few minutes or an extra day to your meditation routine. Since I typically meditate a few times a week, for my challenge, I'm going to try to do it every day. I won't force myself to do a certain number of minutes; I'll play that by ear. Instead, it's simply the consistency that I am striving for.
I also recommend using meditation music. I find it harder to sit still with an empty mind for  a long period of time. But if my mind is given something to focus on I find that I relax more deeply and I can be still for a longer period. When I'm meditating, I typically use this deep meditation MP3 (click here to listen to a free 1-minute sample) from the Meditation Club.
Want to learn how to recognize -- and trust -- your own messages? Sign up here.
My goal for this meditation challenge is strictly to meditate. I'm not trying to get a certain result. However, whenever I do meditate more, my life just seems to get easier, less stressful and more enjoyable. I also find it easier to manifest things when I'm meditating, as well.
PsychicLessons.com may receive compensation if users buy products or services mentioned or advertised on this site or click on some of the links on this site.