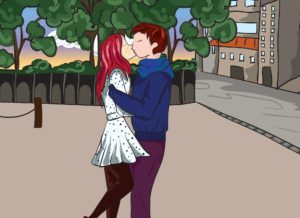 Have you ever wondered if a past life love is in your life today? Could your romantic relationship actually be a continuation of a past life relationship?
So you've recently met a new love and your life is full of butterflies, laughter and excitement. You are on top of the world, and you've never felt this feeling before. Or maybe you've recently met someone who you can't get off of your mind. You think about them constantly and wonder why you can't seem to shake your obsession. Could this be a lover from a past life?
Those who study past lives and reincarnation believe that the bonds we form with others transcend death, and we often share multiple lifetimes with the same fellow souls. While a lover in a past life could be a friend or family member in this lifetime, there have been cases in which past life regression therapists have worked with couples who were couples in previous lives as well. If you think your new love or romantic interest was your past life love too, consider the following signs.
1. Deja vu. Have you ever encountered someone with whom you felt an immediate connection or repulsion? This is often referred to as the "Deja vu" effect. People might experience this connection with anyone from a previous life, whether they are a past life love, friend, foe, or family member.
Want to learn how to recognize — and trust — your own messages? Sign up here.
Often, if you have encountered someone from a previous life, you will feel an instant connection or repulsion to that person. When you experience such a sensation, it is a good bet you knew them previously. If you experience deja vu and you feel that a romantic experience with a particular person feels familiar, there' s a good chance you've shared that romantic connection before.
2. Shared past life memories. Sometimes people have past life memories that they don't understand. You may have a longing to visit a certain place or feel drawn to a location because it seems familiar to you. Perhaps you have a recurring dream about an experience that didn't happen in your current lifetime. If you and a lover happen to be drawn to the same location you've never visited, or you both have a similar dream or a memory that doesn't make sense in your current life, it could be indicative that this is a past life love.
3. Telepathic connection. Is there someone in your life who you share an uncanny connection with? Can you complete their sentences for them or know what they are going to say before they say it? If so, this could be indicative that you have traveled many lifetimes together. This makes sense since souls that have shared past lives tend to have a deeper connection than those who are just interacting for the first time.
If the connection seems innate and effortless, chances are you have encountered this soul before. If you have a romantic connection with someone and you find it particularly easy to connect with them intimately without words, there may have been a romantic relationship before.
Read: Ways to Test Your Telepathic Connection
4. Eyes are windows to soul. Most people are familiar with the old adage: "The eyes are the windows to the soul." This is also a common trait among soulmates. If you encounter someone "new" and recognize their eyes, it is likely that you share a past life connection. Many experts who specialize in past lives and reincarnation claim that while our physical bodies change from lifetime to lifetime, our eyes remain the same because they are the windows to our souls. The soul might inhabit a new body each lifetime, but the soul itself remains unchanged. Therefore, you can recognize a known entity from a previous lifetime in this manner.
Do you believe in past life connections and/or reincarnation? If so, you are far from alone. Many different religions and people of varying spiritual beliefs contend that individuals share bonds and connections that span many lifetimes and circumstances. While these concepts might seem outlandish to some, many others believe wholeheartedly in such psychic or spiritual connections. The main purpose of recognizing past life connections is to decipher messages from our previous experiences and help improve our lives or make amends in the present day.
PsychicLessons.com may receive compensation if users buy products or services mentioned or advertised on this site or click on some of the links on this site.